Name of registered sex offender:
Steven Michael Joseph Koval
Facebook profile
:
Our
"Sex Offender of the Day"
comes to us discourtesy yet again from the state of South Dakota.
Koval snuck in under the radar following a conviction earlier this year on manufacturing child pornography and other charges.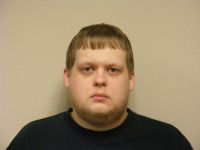 On his above Facebook profile, our so-called 'peon" low-leveled employee at
Lowes
writes:
"I'm laid back, simply spartan and love young, vibrant, playful and childish women because I find getting old banal completely."
He continues:
"I absolutely love music and admire musician girls...animals and children almost more than grown up people. They just think in awesome ways and say the greatest things."
He's also a 'thinker' and debater that enjoys the trio of cuddling, art & volleyball.
Koval also recently celebrated his 32nd birthday earlier this year..
Report this user/loser to Facebook now!