A grandmother living in Oklahoma is not surprised that her 31-year-old neighbor has been
arrested on child pornography charges
.
The unidentified woman
interviewed by NEWS9
told a reporter she witnessed
Billy "Blaine" Mayo
(our suspect)
wearing a cape and dressed in a tutu

frolicking

about in the

neighborhood

days before being arrested earlier this week on various child pornography charges.
Police say they were actually first alerted of the suspect after his
roommate found his cell phone
that reportedly contained child pornography and
confronted him
about it.
Investigators then began to track Mayo and subsequently later seized several computers and other electronic devices belonging to the suspect.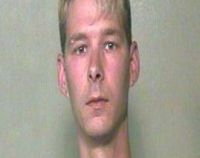 Agents say they
found numerous pictures
of underage boys engaged in sexual related acts on his computer.
Besides the above Facebook profile, Mr. Mayo (
who writes as being a professional photographer on other various websites
) also maintained active accounts on several popular websites including:
Model Mayhem
Dark Folio
Google +
MySpace
deviantART
Mayo, a real trouper and '
true to thyself
'
(or special)
kinda guy now currently
remains behind bars
with those other
special guys
awaiting some $30,000.