A Castle Rock, Colorado man is currently residing in a county jail after being accused of
sexually assaulting a 7-year-old girl
some six years ago.
Ryan Matthew Cardman
, 27, reportedly
abused the child at his apartment
between 2006 and 2007.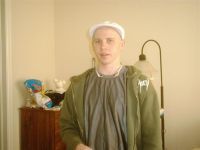 The victim is now 13.
Cardman, who has a record of of theft and domestic violence charges, was married earlier this year in March, according to his above Facebook profile.
A MySpace account in Mr. Cardman's name also can be accessed
here
.
Because police fear there may be additional victims, anyone with more information on the suspect is urged to contact Crimestoppers at 634-STOP (7867).
Other sites maintained by the suspect include:
Blogger
Google +
Perfspot