"...But a clown is something more - something deep inside."
--
Sondance
A 47-year-old Arkansas man who masqueraded
professionally
as a clown for children's birthday parties has been
arrested on child pornography charges
.
Thomas Harold Morgan
, of Fort Smith, is expected to be arraigned sometime next week after being taken into custody on Wednesday by local police.
Morgan, who goes by the name "
Sondance the Clown
", was apprehended after detectives identified an individual sharing child pornography over a p2p network.
The IP was then traced to Morgan who was then charged and jailed for distributing and possessing sexually explicit material involving a child online.
Police noted that
Morgan came to their attention once before
when he showed up as his persona during the Arkansas-Oklahoma State Fair in 2010.
He had not been registered as a performer and was later told to leave the carnival, say police.
According to information posted on his '
official website
':
"I have spent over twenty years perfecting my craft. Not only makeup and costuming, but character development, stage presence, and other essential skills. My educational background is in childhood development, so I know how to interact with kids (and I'm pretty good with adults, too)."
He then continues
:
"I have performed with circuses large and small, and at other large scale events in front of tousands of people. But my first love will always be the personal interaction that comes from entertaining for small groups."
Specialties include, pocket magic
(insert joke here)
and balloon sculptures.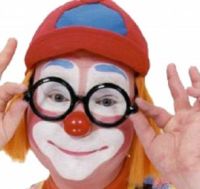 Here's a coupon he advertised in various local paper's: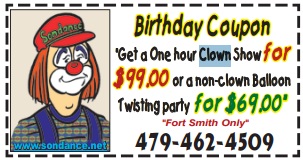 And another: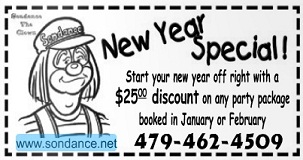 Same picture, different price...same sick bastard clown!
According to the Daily Mail
, Morgan performed at a wide variety of spots including Wal-Mart, Pizza Hut, Krispy Kreme and even oddly enough Red Lobster.
Besides the above Facebook profile, Mr. Morgan also maintained a once active account on MySpace found
here
.

Apparently Morgan had been struggling for work after moving from St. Louis, Missouri.
On
BalloonHQ
(a website dedicated to balloons), an individual angrily responds to a message posted by the alleged suspect on their forum.

On it, the unidentified person writes:
"TM is Rusty Nichols, Tom Morgan, Sondance the Clown, and the original Sigmund Fraud.

He uses different aliases so he can say nasty things about people without recourse.

He is not a paying member of BHQ, but he has been posting negative stuff and bashing people on BHQ for years. Once he publicly posted profanity from a private email between himself and Rhino.

He is also the guy who posted in 2007 about how he moved to St. Louis and couldn't find any paying work!!!"
In a nutshell, not only is "Sondance" a perv, but also a nut!
...As is evident on his above Facebook profile comparing the 2012 OWS protest to the atrocities suffered by the Jewish people at the hand's of Hitler and Germany during WWII.
I can see how this story has now gone global, this clown is absolutely crazy!
Morgan now currently remains behind bars at the Sebastian County Jail and is being held without bond.