A 21-year-old California swim coach has been arrested after allegedly traveling to a Holiday Inn hotel with the intention of
having sex (rape) with at least two children
.
Eric Johnston
, of Folsom, was taken into custody at the popular
hotel chain in Rancho Cordova
following his contact with someone whom he believed to be a father of two children offering his kids for sale.
However, the there was no "father" but instead an undercover police officer there waiting for him.
During a police interview Johnston also
admitted to downloading child pornography
over the Internet.
Prior to his arrest, the suspect had been the youth
Folsom Sea Otters
assistant swim coach for roughly three years.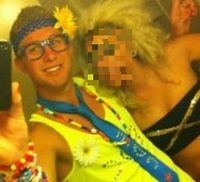 Any association with Mr. Johnston has since been
removed from their website
.
Johnston's own court appointed attorney didn't even bother asking for bail, telling the judge, "
let's just save everyone's time
".
In one e-mail exchange, our swim coach pal reportedly sent the following message to the undercover detective:
"My name is Eric. I'm 21 and I'm gay. I'm more interested in your son than your daughter, but it's your call on what the plan is since they're your kids."
In another exchange,
ABC affiliate KXTV reports
:
"I'm very much into that taboo stuff. I've had sexual relationships with young boys under the age of 14 before so I kind of know how it goes... I've never done this with a group. I've only found my boys by myself and kept them to myself since I've never known anyone else with the same interests as myself."
As you can imagine Johnston has been considered a threat to the community if released.
Kudo's to his attorney...